Charles Hoskinson Outlines Future for Cardano at Virtual Conference
Published:
Saturday, 25th September, 2021 - 18:45
At Cardano Summit 2021, about a hundred bobbing avatars representing ADA fans from across the world huddle together and watch Charles Hoskinson explain the future of Cardano. We're riding a giant flying turtle. Sting rays soar up above.
Hoskinson says that Input Output, the software company that creates Cardano, is like Apple, the subtext being that we're watching the next Steve Jobs. But the difference is that Hoskinson will soon cease to play a leading part in his thriving ecosystem, and we, the bobbles, who by now are throbbing with excitement, we will be the next Steve Jobs.
"You made me believe in people again," said Hoskinson. "You made me believe that there are no problems we cannot solve and no mountains we cannot scale." But Hoskinson, you gave us something much greater: you made us believe in ourselves!
Decentralized application store for Cardano apps is coming, he says, and it is implied that the bobbles will help fill it. Unlike Apple's App Store, we won't have to ask anyone's permission to upload our apps. A light mobile wallet is also on the way and Chainlink will integrate with ADA.
In the keynote speech, Hoskinson announces that Dish and Input Output have entered into a strategic partnership. Dish, an American Fortune 200 company, runs the infrastructure for satellite TV and is the "rebel of the telco space," says Hoskinson. IOHK will make products for them.
It is unclear what products IOHK will produce, but "proof of bandwidth" and decentralized identity and loyalty programs are discussed. "Blockchains are useless without connectivity," says Chris Ergen, co-founder and chairman of DISH Office of Innovation. Together, the technologies will be "exponentially bigger."
I get distracted from the keynote when a nearby bobble jumps on top of me. The bobble, from Nottinghamshire, England, is incessant and I can't concentrate. Something about "lubricating" entry to "underbaked consumers." In a huff, I retreat into the island, where soothing music plays, and I meditate underneath a waterfall.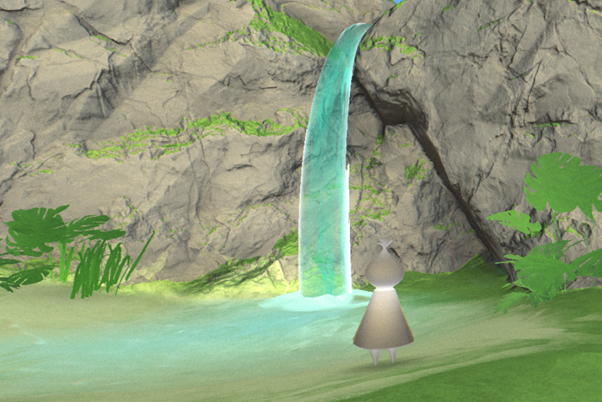 This post first appeared on: Decrypt
Tags in this article